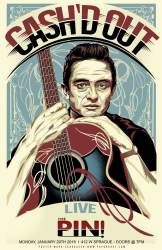 CHINGON Events
Cash'd Out, (Johnny Cash Tribute Band), Kevin Dorin, Sweet Rebel D.
Time: 7:00pm Day: Monday Ages: All Ages Price: $12
This Event Has Ended
Artists We Also Like
Johnny Cash, June Carter, The Cater Family, The Tennessee Two, Carl Perkins, Statler Brothers
Band Interests
pickin, drinkin, tourin, etc.....
instagram.com/cashdoutband
Genre
Country, Rockabilly
Band Members
Douglas Benson, George Bernardo, Stephen Rey,
Nena Anderson, Brigitt Rains
About
The next best thing to Johnny Cash!
Schedule at
cashdout.com
Biography
Over the past couple of decades, tribute bands have become big business in the world of concert promotion. And, not surprisingly, the more popular ones are th
...
See More
Awards
6 time winner of "Best Tribute/Cover Band" - San Diego Music Awards
Current Location
Aspen, CO
Influences
johnny cash, luther perkins, marshall grant,
w.s. "fluke" holland, bob wootton, june carter cash,
carl perkins, the statler brothers, the carter family