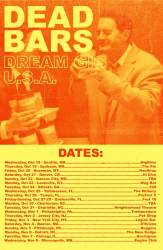 FFE: Dead Bars
Time: 7:00pm Day: Thursday Doors: 6:30pm Ages: All Ages Price: $10
This Event Has Ended
Band Interests
partying. not partying. sleeping. being awake. gigs.
http://deadbars.bandcamp.com
Band Members
John Maiello
CJ Frederick
Blom
Sean Dwyer
Jon Oddo

Follow us on Instagram, Twitter, and Ello
@deadbars
Record Label
No Idea Records
Eager Beaver Records (Japan)
All In Vinyl (UK)
About
Punk Band from Seattle, WA
Biography
2014 - Split w/ Sunshine State (No Idea)
2014 - Dead Bars EP (No Idea)
2015 - Emergency (Eager Beaver)
2016 - Split w/ Kimberly Steaks (All In Vinyl)
2016 - Tour Split w/ The Tim Version (No Idea)
2017 - Dream Gig (No Idea)

Founded in Seattle, WA by vocalist and songwriter John Maiello in 2013, Dead Bars had a very specific plan to play one show, record a demo, and tour only Alaska, Hawaii, and Puerto Rico. After four years of playing more shows, recording five seven-inch's (including their latest release, a split with FEST vets The Tim Version) released on three different labels in three different countries, and never touring outside the continental United States, Dead Bars is releasing their first LP titled Dream Gig (Produced by Eric Randall of TacocaT). The album is released via No Idea Records (Against Me!, Hot Water Music, Defiance Ohio, etc).

Sometimes things don't always go as planned, and sometimes you don't get what you want. Keep on dreamin'.
Current Location
Seattle, WA
Influences
Angus Soundtrack
Booking agent
If you want to book DEAD BARS anywhere in the world please contact deadbarsband@gmail.com
"The singer can't sing and the lyrics are super dumb, but they are soooo good!" - Cool punk lady from Chicago
"They played a short set..." - KEXP
"An amazing line up for a show would be Dead Bars, Mean Jeans, Brutal Knights, and Dear Landlord!" - Var Thelin, No Idea Records
"This is punk rock for the grown-ups who just started suspecting they're not kids anymore." -
Dyingscene.com