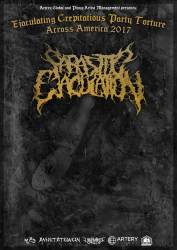 Parasitic Ejaculation, Cold Blooded, Withheld Judgement
Time: 7:00pm Day: Thursday Ages: All Ages Price: $8
This Event Has Ended
some of Spokane's most hated noise-makers: PRO-ABORTION! This will actually be the first show in three years for P.A., also the first with the newest bunch of dipshits that were just recruited. Prepare for an extra stupid night of debauchery and shenanigans.

The local bands will have pre-sales so you can save a buck so you can buy some sick merch from the touring band! Thanks for the support dudes! See you in the pit!

Parasitic Ejaculation (Bay Area, CA) - Slamming Brutal Death
https://www.facebook.com/parasitic.ejaculation/

Cold Blooded (Spokane, WA) - Metallic Hardcore
https://www.facebook.com/coldbloodedmetal/

Withheld Judgement (Spokane Valley, WA) - Deathgroove
https://www.facebook.com/withheldjudgement/

PRO-ABORTION (Spokane, WA) - Experimental Noise
https://pro-abortion.bandcamp.com/

7PM Door, All-Ages, Bar w/ ID, $8Pre-Sales through bands/$10 Door.