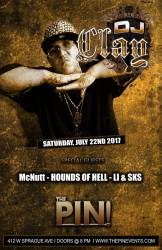 *** CANCELED ***
DJ Clay "Juggalo Jump-Off) with special guest; McNutt, Hounds of Hell, LI & SKS
Time: 8:00pm Day: Saturday Ages: All Ages Price: $12
This Event Has Ended
DJ Clay, (https://www.facebook.com/djclayofficial/)
Record Label
Psychopathic Records
Armed Robbery Ent.
About
BOOKING/ BookDjClay@gmail.com
Beats/Cuts/verses/hosting/ spinnstripes@gmail.com
Biography
DJ, producer, rapper, and mixtape impresario got his start with Psychopathic Records working the turntables at all their biggest parties and events. He was the man behind the music at the Christmas partys the JCW Cancer Charity Event covered by Fox 2 News, CD Release Parties, and much more. He has melted the wax at nearly every Detroit-area party over the last eight years.
In 2006, Shaggy 2 Dope of the Insane Clown Posse asked him to be his personal live DJ on the F.T.F.O Tour. Clay was the man for the job, and soon I.C.P. asked Clay to DJ all their tours. To date he's been on over 15 nationwide tours including; ICP's The Tempest Tour,Twiztid's Toxic Terror Tour, ICP's Bang! Pow! Boom! Tour, ICP/KottonMouth Kings/Coolio's Happy Daze Tour, Twiztid's World of Webs Tour, 5 of ICP's Annual Hallowickeds, and 3 of his own headlining tours.
By the end of 2013, he contributed to over 9 Psychopathic Records' albums. The label kept him working as a scratcher, a producer, a remixer, and all-around versatile artist.
Album credits with Psychopathic Records include:
(ICP) The Tempest
The Mighty Death Pop
Twiztid) Independents Day , W.I.C.K.E.D
Abomanationz
Boondox Punkinhed
Abbadon
Psychopathics From Outer Space Part 3
and more!

Dj Clay released the "Let 'Em Bleed" Mixxtape series, "The Book of The Wicked" Mixxtape series and in June of 2013 "A World Upside Down" the mixxtape.

He has worked with artists from Insane Clown Posse, Twiztid, Blaze, Boondox, A.B.K, The Axe Murder Boyz, Esham, 3-6 Mafia , King Gordy, Bizzare of D12, Tech N9ne, Afro Man, Kreyshawn, Hopsin and many more heavyweights in the underground.

To date his catalog is over 200,000 Mixxtapes sold and his live show is wild, unpredictable and packed with energy!

To book DJ Clay for your club event or party contact Joy: Infogoldstarmgmt@gmail.com
or
Spinnstripes@gmail.com
Current Location
Detroit, MI
General Manager
Joy: infogoldstarmgmt@gmail.com
Influences
Mixmaster Mike / DJ Qbert / DMX / Dr. Dre / I.C.P. / Michael Jackson / Temptations / Beastie Boys / The Beatles
Press contact
infodjclay@gmail.com
or
Josh: josh@yadamedia.net
OFFICIAL PSYCHOPATHIC RECORDS DJ
"A WORLD UPSIDE DOWN the mixxtape " out now worldwide !!!