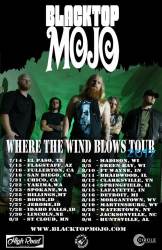 BlackTop Mojo, Jacob Vanknowe, Rusted Hand
Time: 6:00pm Day: Sunday Doors: 5:30pm Ages: All Ages
This Event Has Ended
Free show for 21+, only $5 for under 21 patrons.
Founded in September 2012
Artists We Also Like
Tool, Ozzy, The Cadillac Three, The Bigsbys, Black Stone Cherry, The Black Crowes, Rival Sons, Alabama Shakes
Band Interests
Wrestling Gators

Whiskey

Fire

And of course shooting the gun. Some people relieve stress by exercising, or squeezing a tennis ball; we like firing off a sweet piece. Don't even aim it at anything, Just like the sound.
http://www.blacktopmojo.com
Band Members
Matt James, Nathan Gillis, Ryan Kiefer, Kenneth Irwin, Matt Curtis
Record Label
Cuhmon Records
About
Find our music on iTunes, Amazon, and crashing loudly through a set of speakers on a stage near you!
Biography
Blacktop Mojo is a hard rock band from Palestine, Texas that channels a heavy, gritty sound that seamlessly blends melody and adrenaline. With sludgy, rigid gui
...
See More
Current Location
Palestine, TX
General Manager
Red Rocket Entertainment
Influences
Led Zeppelin, Alice in Chains, Tool, The Black Crowes, Jack White, Pearl Jam, Lightnin' Hopkins, Mad Season, Black Stone Cherry, Collective Soul, Shinedown, Otis Redding, Matchbox 20, Waylon Jennings, Tom Petty, Soundgarden, The Black Keys, and anything else that catches our fancy