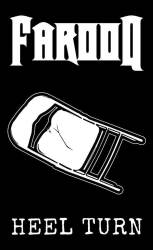 Hardcore: Farooq, Low Roads
Time: 7:30pm Day: Monday Doors: 7:00pm Ages: All Ages Price: $10
This Event Has Ended
Started on October 31, 2011
Band Interests
Music, Politics, Video Games, Sports, Breakfast, Humor, Life.
http://Farooqmosh.bandcamp.com/
Genre
Hardcore, Punk, Metal, Heavy Metal, Metalcore
Band Members
Daniel Dominguez- Vocals
Phillip Camacho - Guitar, Vocals
Alonso Ramirez - Lead Guitar
Brandon Rubio - Bass
Eric Martinez - Drums
About
A hardcore band for fans of hardcore. We play what we love. Sometimes it's metal, sometimes it's old school hardcore. We do what we like.
Biography
After years of being away from the local music scene, Phillip Camacho (Guitar) and Daniel Dominguez (Vocals) decided to collaborate once more to create somethin
g for themselves and possibly others to enjoy. They began casually writing songs in December of 2010. By April of 2011 they had 6 songs and were searching for a band. Daniel only had one drummer in mind when writing the songs...the Pope....Eric Mar, whom he had known for more than half of his life and done many music projects with. After hearing the songs, Eric quickly pulled his drums from storage (it had been 5 years since he last played) and began to get his chops back. He also recruited Matt Olson, knowing he'd be able to pick the songs up quickly and get them playing shows sooner than later. After a few bass player trial runs, they decided to go with Brandon Rubio who had been around the band since Eric joined. After spending the majority of 2012 playing a wide array of shows at the local Hardcore venue the China Town Youth Center, and doing select shows for great cities including Bakersfield, Salinas, Watsonville, Madera, and San Jose in California, as well as Tijuana Mexico, they decided to make plans for a full length album. The Truth recorded,engineered and mixed by Phillip Camacho was independently released in early 2013.
Current Location
Fresno, CA
Influences
Timbaland, Hatebreed, XBISHOPX, Slayer, Animosity, 2Chainz, Trial, Justin Timberlake, BANE, The Red Chord, Gucci Mane, Pantera, Melly Mel, Chon, Between The Buried and Me
We are a hardcore band who exists to push the envelope and open minds as well as the pit. We strive for quality in sincere music. We love to interact with those who appreciate what we do.
twitter/instagram @farooqmosh
youtube.com/farooqtheband